November 9
Author:
Colleen Hoover
Publisher:
Simon and Schuster Australia
Pages:
307 pages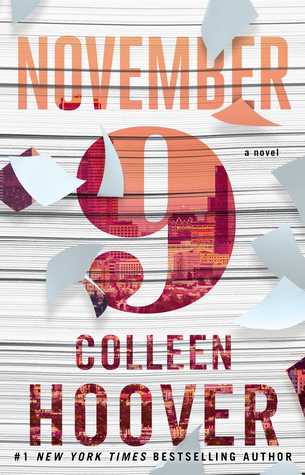 Fallon meets Ben, an aspiring novelist, the day of her scheduled cross-country move. Their untimely attraction leads them to spend Fallon's last day in L.A together, and her eventful life becomes the creative inspiration Ben has always sought for his novel. Over time and amidst the various relationships and tribulations of their own separate lives, they continue to meet on the same date every year. Until one day Fallon becomes unsure if Ben has been telling her the truth or fabricating a perfect reality for the sake of the ultimate plot twist.
Can Ben's relationship with Fallon- and simultaneously his novel- be considered a love story if it ends in heartbreak?
My Review:
Thoughts on the book: Once again Colleen Hoover has written another best seller to add to her every growing list of best seller books. I was lucky enough to receive an ARC of November 9 last year before it was published and was so excited. I didn't dive into it immediately as I really wanted to savor it and I also knew that if I read it as soon as I got it and really quickly that I would be waiting a long time to read another new book from her. I persisted and three weeks after receiving it (also still way before the release date) I finally picked it up and started reading it. Did I read it slow and steady like I should have and savored each page? Hell no, I read that book so damn fast it wasn't funny. But I did thoroughly enjoy every moment of it and can't wait for Colleen's next book to come out.
I loved the idea behind her whole storyline of being let into Fallon and Ben's lives once a year to see how they have both gotten on throughout the year. We get a condensed version of what has gone on and we don't really know if what we have been told is a lie or the truth. But little do we know just how much of a connection Fallon and Ben actually have in each others lives and when you find out you will be sitting there with your mouth wide open going what the hell did I just read. I had a little inclining about what was going on but really never would have expected what happened to happen. You will fall in love with Ben and Fallon and then out of love with them and then back in love with them in certain parts, you will hate each with a passion, then madly hate yourself for it after reading some more, you will be shocked in parts and then you will break down crying in others. You might even find you will through the book across the room at some stages in frustration or anger. All these emotions is what makes this a fantastic book and when you get to the end of November 9 if you are anything like me you will be disappointed that the story had to end at all.
Favourite quote/moment:
There were quite a few quotes that I loved in November 9 and there were some very noteworthy book related ones.
"I don't want to be your first, Fallon. I want to be your last."
"You can't leave yet. I'm not finished falling in love with you."
"If we're going to kiss, it has to be book-worthy."
"Don't stop" I tease in a seductive voice. " Give me more, Ben. Did you read eBooks or..." I run my finger slowly down his chest."Hardbacks?"
He pulls his hands behind his head and a smug look washes over his face. "Oh, they were hardbacks, all right. And I'm not sure if you're ready for this, but...I have my own TBR pile. You should read it, Fallon. It's huge""
Rating: 5/5