Sideswipped
Author:
Lia Riley
Publisher:
Hatchette Australia
Pages:
285 pages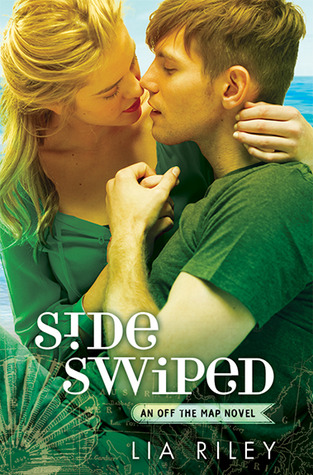 It was only meant to last the summer...
Talia Stolfi has seen more than her fair share of loss in her twenty-one years. But then fate brought her Bran Lockhart, and her dark world was suddenly and spectacularly illuminated. So if being with Bran means leaving her colourless NorCal life for rugged and wild Australia, then that's what she'll do. But as much as Talia longs to give herself over completely to a new beginning, the fears of her past are still lurking in the shadows.
Bran Lockhart knows that living without the beautiful girl who stole his heart will be torment, so he'll take whatever time with her he can. But even though she has packed up her life in California and is back in his arms for the time being, she can't stay for ever. And the remaining time they have together is ticking by way too fast. Though fate seems determined to tear them apart, they won't give up without a fight- because while time may have limits, their love is infinite...
My Review
Thoughts on the book:
Sideswiped basically starts right where Upside Down finishes. Talia is packing up her life in California to move to Australia to be with Bran and finish her college education. It is told from the POV's of both Talia and Bran which I really like as we get to be inside both of their heads and get to see how their minds tick and their side to each event instead of just one person's side.
In Upside Down we mainly got to meet Talia's family and in Sideswiped we finally meet Bran's family. I have to say that his mother was everything that I expected her to be but his sister and his dad weren't anything like I expected. I actually found myself really liking them and wanting to know more about them (although I don't much care for his sister's husband he is a sleaze).
I have read a lot of reviews where fellow bloggers have said that they found Sideswiped to be quite long and slow but I absolutly loved Sideswiped a whole lot more than Upside Down for some reason. It could have been because I wasn't getting to know the characters and we weren't building up their back story this time around. We knew where both Talia and Bran were in life and Sideswiped more concentrated on their relationship and their future. I found towards the end that I wasn't really liking Bran and how he took Talia finally standing up for herself and doing what she wants in life and trying to overcome her OCD.
I can't wait to read the last book in the trilogy, Inside Out and find out where Talia and Bran are headed next.
Favourite quote/passage:
Rating: 4/5 only because of how Bran acted at the end.