Me and Mr J
Author:
Rachel McIntyre
Publisher:
Hardie Grant Egmont
Pages:
313 pages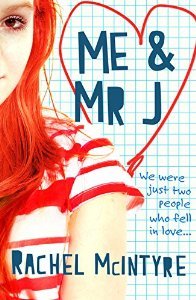 Lara's life is far from perfect, but being an upbeat kind of person she saves her venting for her diary. It's the only place she can really let out her true feelings about her family dramas and hideous bullyinh she has to face every day.
And then a shining light come out of the darkness- the new, young and MALE teacher, Mr Jagger.
The one person who takes Lara seriously and notices her potential.
The one person who is kind to her.
The one person who she falls madly and hopelessly in love with.
The one person who cannot love her back...
Can he?
My Review
Thoughts on the book: I didn't exactly not like this book but I also didn't exactly love it as much as I thought I would. Me and Mr J is written in one of my favourite writing formats, diary entries, which normally win me brownie points with the book anyway, but for some reason the book just didn't tickle my fancy. Yes it has some very funny moments in it and also some very nasty moments in it but it also seemed a little juvenile to me. I mean Lara is fifteen and she openly pursues a relationship with a teacher and that teacher actually reciprocates those feelings.
I will say that Me and Mr J does touch on some very relevant topics that young girls will be able to identify with. One being the student/teacher crush. I am sure every school age kid (including myself) has had a crush on at least one of their teachers, but like most normal people we don't act on this attraction or think that something can actually come of this. Lara however does and by reading this story you can see where this will lead you (let me tell you it really isn't a great route). Then there is there crippling bullying that Lara is getting put through by her classmates and the boys school next door. It was truly heartbreaking to read what these young people, who are supposed to be upstanding school children, do to a fellow classmate all because they are jealous, don't like the way she looks or the fact that Lara's mother cleans one of their houses. I couldn't believe that people would truly do that but know that it is being done to children all over the world. It also brings up how social media now helps bullies reach a bigger audience because they can simply go online make a facebook page, upload content of the bullying and millions of people can see it. It truly is a heartbreaking world that we are living in.
Favourite quote/moment:
'Er, thank you, Graham!' said Mr Jagger over the applause. 'And I can speak for us all when I say I honestly was not expecting that!'
Too right, I'd've been less surprised if he'd pulled a brontosaurus out of a hat.
Rating: 3/5