Frostfire
Author:
Amanda Hocking
Publisher:
Pan MacMillian Australia
Pages:
321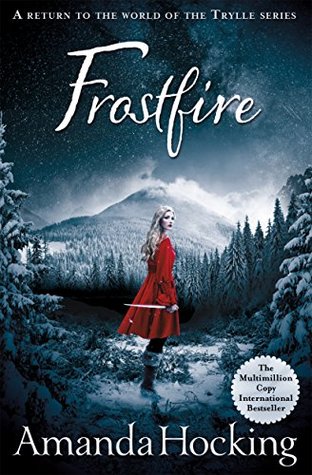 Will she give up on her dream to follow her heart?
Bryn Aven is determined to gain status amongst the Kanin, the most powerful of the hidden tribes. But as a half-blood, winning respect is a huge challenge. Bryn's almost-human community distrusts people, and those from other tribes are almost as suspect.
She has just one goal to get ahead: to join the elite guard protecting the Kanin royal family. And Bryn's vowed that nothing will stand in her way, not even a forbidden romance with her boss, Ridley Dresden.
But her plans are put on hold when fallen hero Konstantin starts acting dangerously. Bryn loved him once, but now he's kidnapping Kanin children- stealing them from hidden placements within human families. She's sent to help stop him, but will she lose her heart in the process?
My Review
Thoughts on the book: Frostfire is the exciting first book in Amanda Hocking's in The Kanin Chronicles which takes place in the same world as her previous Trylle series did. This was my first introduction to Amanda Hocking's book and wow what an amazing first book to start my love for her writing. I will defiantly be getting her Trylle series and reading that too because she has a amazing gift of spinning a fantastic fantasy tale.
Frostfire tells the story of half-breed Bryn who is trying to make her way up in the ranks of the royal guards of Kanin. It is made especially hard for Bryn to gain people's trust and respect because she is a half-breed, her father is Kanin and her mother is Skojare, and people tend to look down on them as they rather keep their bloodlines as pure and untainted as possible. Upon being sent out on a mission to bring back a changeling to the Kanin realm she encounters someone else tracking them, one of the most wanted people in their society, Konstantin Black. What follows is a fantastic first story that gives us an insight into the Kanin world and where the series will be taking us throughout the trilogy.
I must admit that as far as I know I haven't really read any books about trolls before and from what I have seen over the years they are normally ugly, dirty great big things, but Amanda Hocking has put a brand new spin on them and they are taking a place in my top 5 mythical creatures because of this. Bryn is a fantastic heroine that fights for what she believes in and doesn't give up on it, no matter the consequences. A perfect example is her growing feelings for Ridley. Bryn knows that they are there and that they are getting stronger but deliberately takes herself out of the equation because she can't see a relationship lasting or even working in the way that she wants to live her life.
Frostfire is a faultless first novel in the trilogy and gives you a real insight into the world of the Kanin and what they are all about. I can't wait to see where book 2 and 3 lead us.
Favourite quote/part:
His mouth brushed against mine, and I wanted nothing more than to give into the moment, to give into the passion of his embrace and the icy taste of his lips, but I couldn't.
Rating: 5/5