Simon vs. the Homo Sapiens Agenda
Author:
Becky Albertalli
Publisher:
Penguin Teen Australia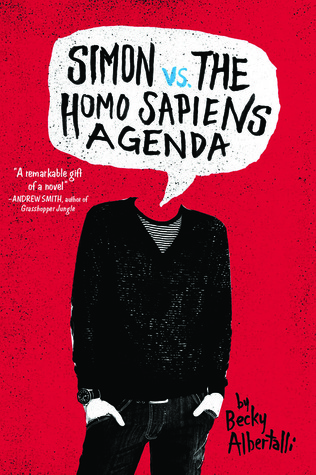 Straight people should have to come out too. The more awkward it is the better.
Simon Spier is sixteen and trying
to work
out who he is- and what he's looking for.
But when one of his emails to the very distracting Blue falls into the wrong hands, things get all kinds of complicated.
Because for Simon, falling for Blue is a big
deal
...
It's a holy freaking huge awesome deal.
My Review
Thoughts on the book:
Simon thinks that he has it all planned out. That is until he forgets to log out of his chat session with his newly found in the closet gay friend, Blue. Suddenly Simon finds that the one thing that means the world to him is put in jeopardy because of one simple mistake. So Simon, being Simon finally makes the decision to come out to everyone that he loves and even though it might not have been in the way that he thought he was going to do it, he does it and as a reader I couldn't have been more proud of him.
I believe that Simon vs the Homo Sapiens Agenda is a very relevant coming of age book in this day and age (wow that makes me sound old but it's true). It brings up some amazing topics such as bullying, online cyber bullying and cyber awareness and how gay people are subjected to in the world's eyes. Simon is easily identifiable not because he is gay, but because he is going through some of the most normal things that teenagers this day seem to have to go through now days. I really liked the idea that the author brought up though of everyone having a coming out party, whether they are straight or gay. I think that that is fantastic and would really improve on fairness to everyone. What is also amazing is that this is written by a female in a males POV which I absolutely loved.
Favourite quote/part:
"Why is straight the default? Everyone should have to declare one way or another, and it shouldn't be this big awkward thing whether you're straight, gay, bi, or whatever. I'm just saying."
Rating:
5/5