Lifespan of Starlight
Author:
Thalia Kalkipsakis
Publisher:
Hardie Grant Egmont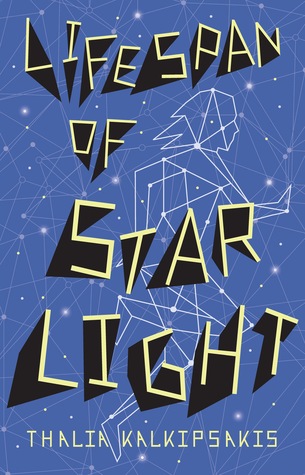 It already lies dormant within you: the ability to move within time.
In 2084, three teenagers discover the secret to time travel. At first their jumps cover only a few seconds, but soon they master the technique and combat their fear of jumping into the unknown.
It's dangerous. It's illegal. And it's utterly worth it for the full-body bliss of each return.
As their ability to time jump grows into days and weeks, the group begins to push beyond their limits, with terrifying consequences. Could they travel as far as ten years, to escape the authorities? They are desperate enough to find out.
My Review
Thoughts on the book:
Lifespan of Starlight is the first book in Thalia Kalkipsakis time travelling trilogy. It tells the story of illegal Scout (aka Coutlyn) who is trying to make her way in the world the best that she can. Suddenly a chance encounter turns her whole world upside down and Scout suddenly finds herself time travelling. But it's not time travelling in the sense that we know it.
I'm going to start off this review by saying Lifespan of Starlight actually took me a long time to read, I'm talking properly around a good two months. I started off reading it in early March hoping to have it all read before it's release in April (I was lucky enough to have received an ARC from the publisher). Everything started off really well and I was thoroughly enjoying it when all of a sudden I just couldn't seem to read it anymore. I had to put it down.
I had lost all interest in it and so I found myself in a reading slump. I couldn't find any books that I wanted to read. I would pick up a book to read and a couple of chapters into it put it back down again. Nothing would prick my interest. So in early May I ended up picking up Lifespan of Starlight again and guess what... I finished it in one go and absolutely adored it. Once I started reading it again I found my reading mojo again and have been frantically reading ever since.
I don't think that I have really read a sci-fi book before reading Lifespan of Starlight. I absolutely loved that the book was set in Australia, so when the author was talking about places I basically knew where they were and what they were talking about. I found the author's idea on time travel to be a very interesting take. Normally when you picture people time travelling you picture them going into a portal or jumping into a time machine that takes them into the future. The author in Lifespan of Starlight has the time travellers basically going into a meditative state and through that jumping forward in time. It really is a very interesting concept and I can see a lot of people upon reading the book trying it for themselves just to make sure that it doesn't work, because the author is very convincing in her story that it does,
BE WARNED Lifespan of Starlight ends on the mother of all cliff hangers that will have you begging to jump forward in time to 2016 to get your hands on the second book in the trilogy.
Favourite quote/moment:
All our lives, we've been moving with the flow of time because that's all we know...But in truth, time isn't flowing. Reality only exists in separate moments, like frames in a movie.
Rating: 3.5/5