Confess
Author:
Colleen Hoover
Publisher:
Simon and Schuster Australia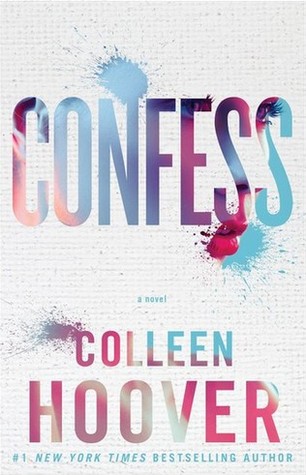 Auburn Reed has lost everything important to her. In her fight to rebuild her shattered life, She has had her goals in sight and there is no room for mistakes. But when she walks into a Dallas art studio in search of a job, she doesn't expect to find a deep attraction to the enigmatic artist who works there, Owen gentry.
For once, Auburn takes a chance and puts her heart in control, only to discover that Owen is keeping a major secret from coming out. The magnitude of his past threatens to destroy everything Auburn loves most, and the only way to get her life back on track is to cut Owen out of it.
To save her relationship, all Owen needs to do is confess. But in this case, the confession could be much more destructive than the actual sin.
My Review
Thoughts on the book: Well as always I never know quite what to expect from a Colleen Hoover story and Confess was no different. I thought going into the book that I knew everything that was going on and was thrown for the biggest loop ever when I got to Part 2 of the book. Everything comes into the light of day and I never would have expected the story to end the way it did. But there are a few points that I would like to discuss in this review.
Number 1: I hate to admit it but I didn't like Confess as much as I was expecting too. This may have been because the last Colleen Hoover book that I read was Ugly Love and come on that was her best book that she has ever written. I don't know whether it was because I couldn't quite relate to the characters of Auburn and Owen as much as I have previous characters or whether it was because I struggled to get through the book until I got to Part 2. Whatever it was Colleen Hoover fans and book lovers alike should still give Confess a go and maybe you will enjoy it more than me.
Number 2; I must say that I absolutely loved the concept of Owen's gallery, Confess. The fact that people write any confessions that they want anonymously and Owen picks some of them and interprets them into paintings that he believes en captures that confession is amazing. I would love to see this done in real life.
Number 3: My last point that I would love to raise is the ending. For starters it came around way too quick, one moment I am really enjoying the story and the next it is over. I mean who does that. I'll answer that, because that's what good authors do. Also the story didn't quite end the way I thought it would and I personally would have liked to have seen a bit more into the future.
Whatever it was I thought of the book though Colleen Hoover fans and book lovers alike should still give Confess a go and maybe you will enjoy it more than me.
"I love you so much." His voice is breathless and full of fear. "I'll love you forever. Even when I can't." My tears fall harder at his words. "And I'll love you forever. Even when I shouldn't."
Rating: 4/5