Rusty Nailed
Author:
Alice Clayton
Publisher:
Simon and Schuster Australia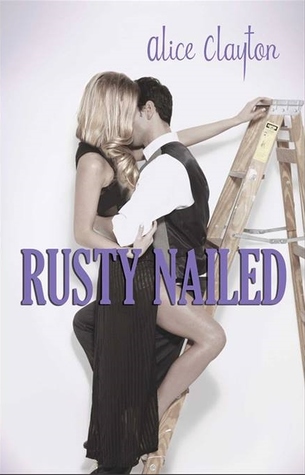 Can living together still be knock-the-paintings-off-your-wall smexy?
Having it all was never so thrilling... or so complicated. Caroline Reynolds and Simon Parker are all set to play house, but their schedules keep coming between then and the sheets. With her boss on an extended honeymoon, Caroline's working crazy-long hours running the business, while Simon gallivants all over the world for his job. Still, their reunion sex is hot, hot, proving that absence makes the heart fonder, and the libido stronger...
Then a trip to his childhood home has Simon questioning his priorities, wondering whether his lifestyle is still the answer for him. Suddenly he's choosing to stay home rather than photograph exotic locales, and Caroline's caught in a quandary. With her interior design career skyrocketing, does she have to choose between personal and professional? And as apple pie and white picket fences start to loom scarily large in their future, is this unconventional couple really ready to quit fooling around?
My Review
My thoughts: It has been a couple of years since I have read Wallbanger and I finally picked up book 2 in the series, Rusty Nailed and flew through it within a day. I can't believe I left it this long to go without my Caroline, Simon and Clive fix. In Rusty Nailed we get to see how far our new young smoking hot couple have progressed in their relationship and let me tell you I think you will be very surprised as I know I was. Simon and Caroline have settled into their relationship well and are banging away whenever they can. But things are about to be turned on their head when Caroline is put in charge of Jillian's design firm and Simon goes back to his hometown and he seems to really start to think about what he wants in life. All of a sudden they are settling down and buying and renovating a house together. But is this really what they want?
I really enjoyed reading the fights between Sophia and Neil and the lengths they both went to to out do each other in the relationship stakes. I also loved reading more about Clive and especially loved the bit at the end (which I'm not going to give away as it's too good). There is plenty of laugh yourself silly, sometimes uncomfortable, hot and bothered moments throughout the book that have you wanting more and more of the book. I can't wait to read the rest of the series now. Starting with book 3 Screwdrived which is up next on my TBR pile.
Favourite moments/quotes:
"Hell, yes. I love you; that's not going to change. I want this, I want you, and I think . . . Oh hell, here comes the Dawson's Creek."
He grimaced and I chuckled in spite of the moment.
His gaze grew wistful, and he looked so young. "I don't want to put things off, even though we haven't been together a really long time. I don't want to wait—you never know what can . . . Look. I adore you, and I want a home. Again. With you."
Rating: 5/5