Not in the Script
Author: Amy Finnegan
Publisher: Bloomsbury Australia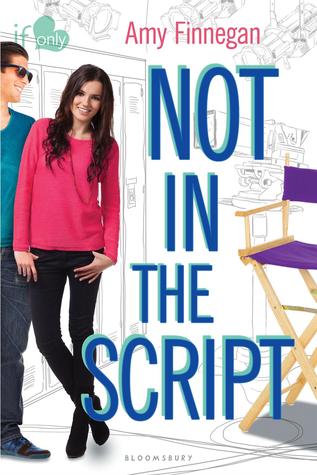 If only… He wasn't her costar.
Millions of people witnessed Emma Taylor's first kiss- a kiss that needed twelve take and four camera angles to get right. Many on-screen romances with off-screen jerks later, Emma doesn't believe there are any nice, normal guys in Hollywood. But when she steps onto the set of the hot new teen show Coyote Hills, Emma finds herself fighting an attraction to her costar, Jake.
Jake Elliot's face is in magazine ads around the world, but his lucrative modelling deals were a poor substitute for the life he left behind. Now acting is offering Jake plenty of time with the smart and irresistible Emma Taylor… If she would just give him a chance.
But on-set relationships always end badly. Don't they?
This novel in the deliciously fun If Only romance line proves that the best kinds of love stories don't follow a script.
My review
Thoughts on the book: Not in the Script gives you an insight into the life of an actor, what it is like to grow up in the public eye and what it is like for someone to date their co-star. We also get an insight into what it's like to be around the paparazzi.
Not in the Script is told from the POV of Emma Taylor and Jake Elliot. There are basically four main characters Emma, Jake, Kimmy and. Brett who also happen to be the four main cast members of the new TV show Coyote Hills. Emma has basically been in show biz since she was twelve years old and is finally starting to branch out on her own, she is now living on her own and is taking matters into her own hands with her new foundation which Jake's mother inspired. Jake has so much going on in his life but looking at him from the outside you wouldn't know anything was going on. Both Emma and Jake fight their attraction for each other but of course in the end they both realise that all they want is to be together.
To tell you the truth at the start I didn't really like Kimmy all that much. But as the story went on I got to know her a little better and started to actually really like her especially towards the end. She really brought Emma out of her shell and made showed her what she can truly be. As for Brett he really annoyed me from the very start and didn't stop annoying me the whole way through.
I also really didn't like Emma's best friend Rachel and could tell from the first moment that she really envied Emma and blamed her for how her life had turned out and all her disappointments. I could have slapped her when she was going on about Emma when they were having their double date and really couldn't understood why she was being so inconsiderate towards her 'supposed friend'.
Not in the Script is a fantastic addition to the If Only series.
Favourite moment/quote:
Emma's face has life in it again, and she's about to say something else when someone kicks me- making me jolt- so her focus goes to my reaction instead.
"Oh my gosh!" Rachel says, apparently the one who delivered the deathblow to my ankle. Her hands are all over me now. "I'm so sorry! How did I kick you?"
Emma and I straighten up at the same time. I've been trying to cheer her up by playing a game of footsie, so our feet feet are twisted together like pretzels when Rachel apparently tried to kick her, not me. "It's okay," I reply. "I was just... Stretching my legs."
Rating: 5/5