Hold on Tight
Author:
Abbi Glines
Publisher:
Simon and Schuster Australia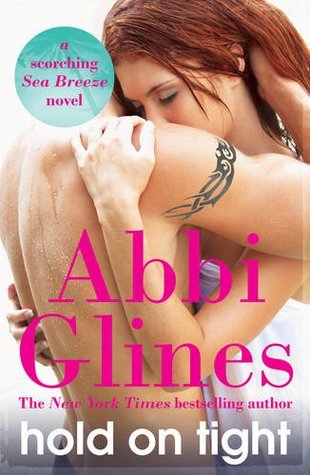 Dewayne Falco knows two things to be true... he'll never forgive himself for the car crash that killed his brother Dustin, and he'll never get over Sienna Roy, the beautiful red-headed girl next door, who left while everyone was still grieving.
Drowning his sorrows in meaningless hook-ups, Dewayne just wants to forget. But when Sienna moves back to town, he's reminded that maybe some things are worth fighting for.
Sienna never thought she'd find herself back in Sea Breeze, and when she sees Dewayne it's hard to shake off the memories. But Dewayne and Sienna can't ignore the love and passion that's always simmered between them. Maybe it's finally time to hold on tight and never let go...
My Review
Thoughts on the book: I put off reading Hold On Tight for so long because I don't actually want the series to end and I knew that when I finally read it that it would mean that there would be only one more book left to read and personally I am not ready to leave this series behind yet. Anyway on with the review. Of course Abbi Glines has done it once again and written a stellar novel that is unput downable. Hold on Tight is book 8 in the Sea Breeze series and continues on with us learning about another member of the Sea Breeze gang, which in this case is Dewayne Falco. Let me tell you I have been waiting so long to find out the back story about Dewayne and it certainly didn't disappoint although I kind of wish that there was a little bit more of him and of the whole Sea Breeze crew. But in saying that I loved learning about Sienna and Micah and the past that came along with this story. We get to see everyone when they were younger and learn the whole back story between Dewayne and Sienna. I really hope that we get to see this kind of style in the last book too which I am looking forward to but also dreading because I really don't want it to end.
Favourite character: Ok this may shock a few people as it isn't one of the two main people, but it is Sienna's son Micah. The way that he looks after his mother even though he is only five years old is amazing and really makes me think of my own son and how protective he is of me. Every mother deserves a child like Micah.
Favourite moment/quote:
"The journey may not be easy, but when you find the one to take it with, then you can do anything."
"You're one of the best men I know. You wear your tats and piercings and those damn leather bracelets that only you could get away with. But inside you are one big teddy bear. When someone you love needs you, there is nothing you won't do for them. When I needed you, you were always there. I've never questioned your heart. It's made of fucking gold
, and we all know it. We laugh at your crude jokes and snide comments because we know they mean nothing. It's part of your shield. Underneath, I don't know many men that compare. You're one of the best, Dewayne. One of the best."
Rating: 5/5