Dirty Rowdy Thing
Author:
Christina Lauren
Publisher:
Simon and Schuster Australia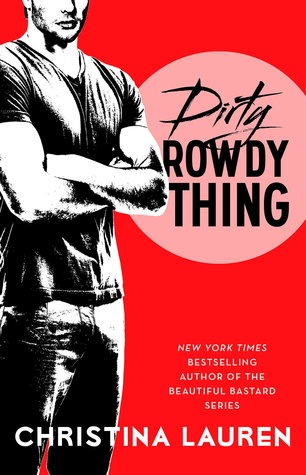 It doesn't get any better than ex sex...
Unless you fall in love.
Unlike her best friends Mia and Lola, Harlow Vega has a reputation for always being up for a fling. Twelve drunk and wild hours in Sin City married to the ridiculously hot and rugged Canadian fisherman Finn Roberts, who (no surprise) is amazingly with his muscular hands- and his lips and the rest of his body- was just her speed.
But it was just a thing: dirty, rowdy, and easy... until Finn turns up in her hometown on business. Harlow's not ready to be tied down, but when the whole crew is hanging out together, there's just something about him. It may not be love (hell, it may not even be like), but their exciting, tension-filled hookups provide the perfect distraction from the scary life changes they're both facing- challenges neither is sure how to handle, let alone fix. One night together turns into two, and soon Finn's mysterious business trip has gone on for weeks. They agreed on the sex- wild, wet,kinky- but now their border-crossing booty call is starting to feel like the real deal. And for two people used to being in control, taking the ultimate plunge by falling in love feels a lot more like flat-out falling.
My Review
Thoughts on the book: Dirty Rowdy Thing is the second book in Christina Lauren's latest series The Wild Seasons Series (with Sweet Filthy Boy being the first book in the series). We get to meet the second of the three friends who got married in Vegas on that fateful weekend, Harlow Vega and Finn Roberts. Unlike Mia and Ansel, Harlow and Finn annulled their marriage and had a one time hook up afterwards where Harlow flew up to see Finn in just a trench coat. But suddenly Finn is in Harlow's home town for Oliver's comic book store opening and it looks as if he isn't going anywhere. Suddenly they can't ignore their sexual feeling towards each other and delve into a friends with benefits relationship. But then they both realize that they want more from each other however it seems they both have a lot going on in their own lives which complicates things.
It seems to always be a long gap between when I read Christina Lauren books and I really don't know why. They are so amazing and always have me hooked from the first sentence until the very end and always leave me wanting more of my favourite characters. I loved getting to know Harlow and Finn more and they both find out a lot about both themselves and each other through their little escapades. I also enjoyed finding out more about Lola and Oliver and can't wait to read their book.
Favourite part:
"The stars could fall, the ocean could take over the land, and I wouldn't even realize it until long after Finn slows
his hips and runs his hand up my leg and along my side, until he reaches my jaw, cupping it and telling me he's never wanted anything the way he wants me."
Rating: 5/5