The Perfectionists
Author: Sara Shepard
Publisher: Hot Key Books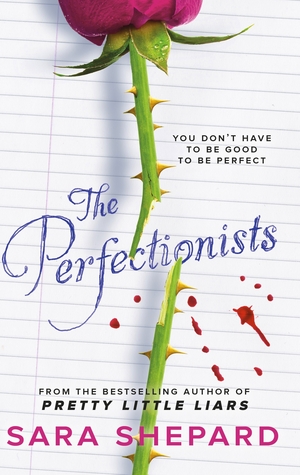 Perfect test scores, perfect friends, perfect lives… perfect murderers?
High school senior Nolan Hotchkiss is one of those lucky kids- handsome, rich, living a charmed life- despite the fact that he's a self-centred bully who treats everyone around him like dirt. Still, no one can touch Nolan, no one would try…
Until Now.
There are five girls at school with Nolan who each have a very good reason to end his reign of terror, and now they're going to put words into actions and play this player at his own game.
But when you mess with fire you risk getting burnt. For these five fearless girls, revenge comes at a very high price and secrets have a habit of coming out… even when there is nothing to hide…
My review
Thoughts on the book: The Perfectionists is written by the bestselling author of the Pretty Little Liars series Sara Shephard. I really enjoyed the storyline of the book but have to admit that in the back of my mind I was always aware that this was the same person who wrote Pretty Little Liars and I noticed that there were a lot of similarities. I found myself comparing the two different series a lot throughout The Perfectionists which kind of put a little dampener on my reading experience with this book.
The Perfectionists starts off at one of the biggest parties of the year, at Nolan Hotchkiss house the most popular boy in town. By the end of the prologue we learn that Nolan has been found dead in his room. So each of the five very different main characters were each thrown together in a group activity in film studies class and while discussing the movie they had just watched brought up how they would kill the biggest bully in school, Nolan. You see Nolan had something over everyone in that group (sound familiar) and everyone thought the world would be a much nicer place if he wasn't in it anymore. At the party mentioned above they decide to play a prank on him and give him a taste of his own medicine, but they certainly didn't kill him.
Throughout the rest of the book we learn the different reasons why each of the five girls hated Nolan and who are the suspects in Nolan's murder. I have really enjoyed trying to figure out who has done it and have a few characters in mind that might have done it but with the way this first book ended I don't know if I'm right or not. All I know is that I am really looking forward to the next book and finding out who did kill Nolan and see whether my suspicions were right.
Favourite character: This is a hard one because each of the five main girls has qualities that I like. But I'm going to say Parker. We learn a little bit about her past history with what happened between her dad and herself and her previous relationship with Nolan but we don't know much more than this. She is a real mystery and these blackouts and memory losses that she keeps having could mean we are missing vital pieces of information about Parker and what she knows. I can't wait to see where Sara Shephard takes her in the next book.
Rating: 4/5