Sweet Filthy Boy
Author: Christina Lauren
Publisher: Simon and Schuster Australia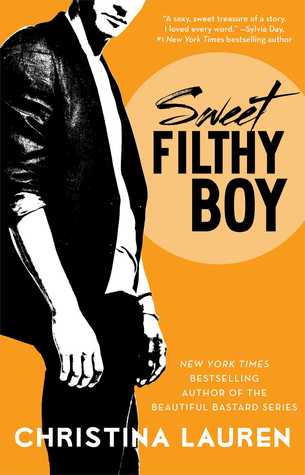 One night Stands are supposed to be convenient. Forgettable. Regrettable, even. They aren't supposed to be with someone like him.
But when three besties hook up with three hotties during a rowdy Vegas graduation weekend, one night isn't nearly enough…
What Happens in Vegas… Ends up in Paris.
Mia Holland isn't usually one for a fling, but after a sweet, filthy night with charming Frenchman Ansel Guilaume, she makes the wildest decision of her life. Terrified of the boring but practical path ahead of her, Mia rolls the dice and follows Ansel to France for the summer to just… play.
Playing house , playing lovers… Mia's whole life feels like pretend until she dresses up and pulls Ansel into a provocative masquerade that finally feels real. Real conversations, real emotions, really, really hot sex. But is her sizzling adventure any less of a charade than her buttoned-up plans to attend business school in the fall? Can a one night stand really turn out to be The One?
My Review
Thoughts on the book: Where to start this review for this amazingly hot and steamy book. It's been awhile since I had read one of Christina Lauren's books and I kind of forgot just how good they really were. But upon starting Sweet Filthy Boy within minutes I remembered why I loved their writing so much and once again was left engaged until the end.
Before starting and defiantly after reading this make sure that you have a nice cold glass of water or a cold shower because you will defiantly need to cool down after. The sex scenes are HOT, sweaty and steamy and they leave nothing to the imagination and even make you feel like you are in the room witnessing all of their sexual adventures .
But in saying this the book is also so much more than just sex. It is about Mia doing something spontaneous and trying to figure out where she wants to go in life. We find out that she always wanted to be a dancer up until a terrible accident meant that she had to let that dream go, so she went and did what her father wanted her to do and did a business degree. After finishing the degree her father sets her up to go to business school in Boston and is paying for her accommodation and her moving costs. But Mia is having major doubts that this is really what she wants to do with her life. So when she meets Ansel and her offers her a once in a lifetime opportunity she takes it with both hands and thinks that with the time spent away from everyone she will be able to figure out what her next move will be. Not only does she work out what her next move will be, but she also discovers so much about herself and what she can actually do.
This is truly an amazing story about love at first sight and also about self-discovery and will appeal to all Christian Lauren fans.
Favourite character: This is a hard one for me because I loved Ansel and Mia so much. I loved how attentive Ansel was to Mia the whole time she was there and how the whole world revolved around her and no one else. But by far he wins the most brownie points for looking after Mia when she fell sick on the plane when they were leaving for France and the subsequent week after. Any man that would ask an airhostess for a tampon for someone he just met is a winner in my book.
Favourite quote/part:
"I catch only when he says my name, but otherwise have to trust that he's relaying everything accurately. I imagine it goes something like, "The sex was great and then we got married and now she's here! Help me! She won't stop throwing up, it's incredibly awkward. Her name is MIA HOLLAND. Is there a service by which we ship wayward American girls back to the states?"
Rating: 5/5