Say her name
Author: James Dawson
Publisher: Hot key books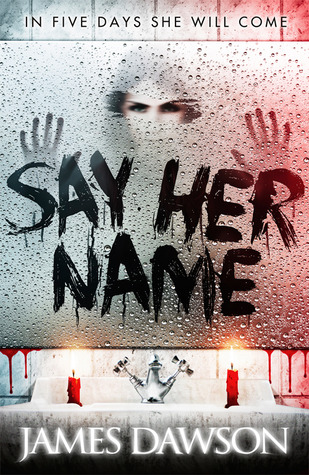 Drip… drip… drip… In five days, she will come…
Roberta 'Bobbie' Rowe is not the kind of person who believes in ghosts. A Halloween dare at her ridiculously spooky boarding school is no big deal, especially when her best friend Naya and cute local boy Caine agree to join in too. They are ordered to summon the legendary ghost of 'Bloody Mary': say her name five times in front of a candlelit mirror, and she shall appear… But, surprise surprise, nothing happens. Or does it?
Next morning, Bobbie finds a message on her bathroom mirror… five days… but what does it mean? And who left it there? Things get increasingly weird and more terrifying for Bobbie and Naya, until it becomes all too clear that Bloody Mary was indeed called from the afterlife that night, and she is defiantly not friendly ghost. Bobbie, Naya and Caine are now in a race against time before their five days are up and Mary comes for them, as she has come for countess others before…
My review
What I liked: I am not a big horror fan, I never really watch scary movies or read scary books but upon reading the plot summary for Say her Name I knew that I had to put in a request for an ARC copy as I had to read this book ASAP and I certainly wasn't disappointed. There are really no words to describe how much I loved this book. I couldn't seem to put it down once I started it (even though at times I was a little worried that Bloody Mary was going to come and get me) because I had to know what was going to happen, whether Bloody Mary was real and whether she got Bobbie, Naya and Caine. I'll admit I did peek at the back (which I have been refraining from doing lately) to try and get a sense of where the story ended but it just confused me even more. I was thoroughly immersed in the mystery that we are trying to work out and was thoroughly amazed where the author was taking us. I never would have guessed what happened in the ending and was so shocked that when I finished I sat there stunned for what felt like forever just trying to process what had happened.
I loved the little romance that flared between Robbie and Caine and how they quickly grabbed onto each other and wouldn't really let each other out of their sight because they were scared that they would lose each other.
This is quite easy for me. I hated the fact that the book ended the way it did. After all we go through in the book to finally feeling like it has all ended only for the author to through another twist into the ending, it certainly wasn't something that I saw coming. For me personally I would have liked to have known what happened next and not just read an article at the back of the book that gave us a few details about what happened (trying to be as basic as I can here so I don't give it away).
Favourite character: This may shock a few of you, but my favourite character was Bloody Mary. I just found her to be really interesting and loved the backstory that we learnt about her past and how she came to be there and what she did to the people that spoke her name. I did feel sorry for what happened to her.
Rating: 5/5 best ghost story I have read in a long time
Interview with James Dawson
James Dawson is the author of Say Her Name, a modern day story of Bloody Mary. I was lucky enough to send through some questions to him as part of the 'Books to Keep you Warm' spotlight on Hot Key Books.
Hi James. Thanks for letting me send you a few questions.
I really enjoyed your book Say Her Name. What was the inspiration behind you writing it?
Say Her Name has one job: to be scary. A friend told me that a contemporary ghost story couldn't be scary because of mobile phone and such, so I was determined to prove him wrong.
Moreover, I've always been fascinated by ghost stories. I remember telling them on school camps. If you think about it, they're the only stories that we still tell orally and I find that really interesting- the way these stories have a life of their own.
Did you do much research into the Bloody Mary myth to write Say Her Name?
No! I tried to find out where the story originated, but other than that it was really important that I told my version of the story, so I purposefully ignored other sources. I still haven't seen the Bloody Mary episode of Supernatural.
I really love the relationship that Bobbie and Caine formed. Were they always going to get together or were you thinking of Caine and someone else (Naya perhaps?)?
In the very first version there was a thread in which Bobbie and Naya fell out over Caine because they both liked him. I came to my senses. Girls falling out over a guy felt too stereotypical and undermined the closeness of Bobbie and Naya.
Your characters each have different qualities about them that make them who they are. Are any of them based on real people and who is your favourite?
Good question! In my first two novels (Hollow Pike and Cruel Summer) I did base the characters loosely on people I knew. Say Her Name is my third book so I guess I was feeling a little more confident and wanted to create the characters myself. That said, every character has a lot of me in them- I'm a lot like Bobbie, sometimes more like Caine and I defiantly have a lot of Naya in me too! I'm awfully fond of Bobbie, she's one of my favourites.
Are you looking at writing anymore books about myths that have been around for ages?
Not really. My next novel is called Under my Skin and it's more like a dark fairytale- think a female YA Jekyll and Hyde story!
Have you always wanted to be an author and who were your favourite authors growing up?
Initially I wanted to be an actor and I'm really excited because I've just been cast in my first play in ten years. That said, I've always written, I just never thought It'd become my career.
My favourite authors when I was a teenager were RL Stine and Christopher Pike, although I read a lot of adult horror like Stephen Kind and Dean Koontz too.