Beautiful Oblivion
Author: Jamie McGuire
Publisher: Simon and Schuster Australia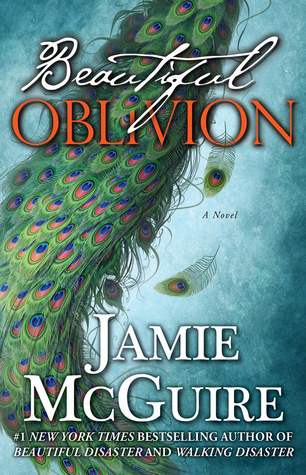 You fell in love with Abby and Travis.
Now meet Cami and Trent.
Fiercely independent Camille "Cami" Camlin gladly left behind her childhood before it was over. she's had a job since before she could drive, and moved into her own apartment after her freshman year of college. Now tending bar at the Red Door, Cami doesn't have time for much besides work and classes, until a cancelled trip to see her boyfriend leaves her with the first weekend off in a year.
Trenton Maddox was the king of Eastern State University, dating coeds before he even graduated high school. Guys wanted to be him, and women wanted to tame him, but after a tragic accident turned his world upside down, Trent left campus to come to grips with the crushing guilt.
Eighteen months later, Trent is living at home with his widower father, and working full-time at a local tattoo palor to help with the bills. Just when he thinks his life is returning to normal, he notices Cami sitting alone at a table at the Red Door.
As the older sister of three rowdy brothers, Cami believes she'll have no problem keeping her new friendship with Trent Maddox strictly platonic. But when a Maddox boy falls in love, he loves forever- even if Cami is the only reason his already broken family could fall apart.
My review
Thoughts on the book: We all fell in love with Jamie McGuire's writing and the Maddox boys in Beautiful Disaster and again in Walking Disaster and A Beautiful Wedding, now it is time to fall in love once again. Like everyone else I was so excited to learn that we would get to see more of the Maddox brothers. In Beautiful Oblivion we get to meet Cami and Trent and I am going to admit (and many of you may hate me for this) but I liked Trent and Cami a whole lot better than Travis and Abby. For some reason Travis and Cami, once they worked out there issues, personally worked for me better as a couple, even though they had a really rough start.
From the very start we are lead on an amazingly complicated love story that only a Maddox brother could go on. First off Cami has a boyfriend that no one really knows the identity of except that he is called TJ. After being stood up by TJ once again Cami decides to go to the Red Door where she works with her friend Raegan and have a couple of drinks where who should appear at her table but one of the famous Maddox brothers, Trent in this case. Upon setting eyes on Cami, Trent decides that he must have her and stops at nothing to get her. Once again we are thrown into an epic storyline that makes you feel like you are falling in love for the very first time in a new relationship and for it to be a Maddox brother that you are falling for nothing can compare to that. Trent and Cami's story will have you up all night eagerly flipping the pages to see what happens next. And the best bit will be when you find out the identity of TJ (you will never guess who it is).
Favourite quote/moment:
Here are a few quotes I like:
"I was in trouble. Big, disastrous, Maddox trouble."
"I've had a lifetime of wrong. You're the only thing thats right."
"Comfortable? I'm fucking cashmere."
Rating: 5/5