Hopeless
By: Colleen Hoover
Publisher: Simon and Schuster Australia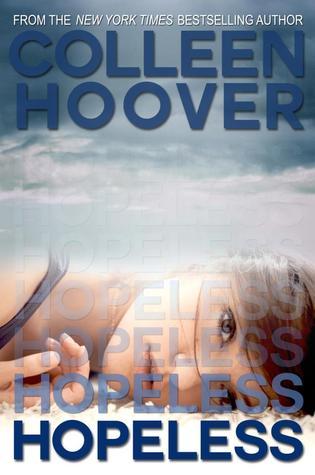 Would you rather know a truth that makes you feel hopeless, or keep believing the lies?
Beloved and bestselling author Colleen Hoover returns with the spellbinding story of two young people with devastating pasts who embark on a passionate, intriguing journey to discover the lessons of life, love, trust- and above all, the healing power that only truth can bring.
Sky, a senior in high school, meets Dean Holder, a guy with a promiscuous reputation that rivals her own. From their very first encounter, he terrifies and captivates her. Something about him sparks memories of her deeply troubled past, a time she's tried so hard to bury. Though Sky is determined to stay far away from him, his unwavering pursuit and enigmatic smile break down her defences and the intensity of the bond between them grows. But the mysterious
My review
Plot: Hopless is the story of Sky, a girl who was adopted when she was little and has been home schooled ever since until it comes to the last year that she wants to enrol in public school to gain some extracurricular activities for college. So she gets her wish and goes to public school where she meets Dean Holder. Dean is a boy who has some issues in his life that need addressing. One of these issues is that he feels really guilty about not telling someone about what happened to the little girl next door. Dean meets Sky and immediately thinks that she is the girl that he has lost and makes it his mission to get to know her to get closer to her to find out. But Sky has no idea that what her whole life has basically been one big lie.
What I liked about the book: I love Colleen Hoover's writing and how she just draws you in and makes you feel every emotion that she is trying to express through the character. You are constantly screaming, cheering and crying along with the characters trying to make them go in the direction that you want them to go into and not the direction that they are currently heading. I also love how she has brought up a very controversial topic (being the molestation of a child by a parent) and lets the readers see through the eyes of a victim and how it can affect them and the people around them.
What I didn't like about the book: I don't think that there was really all that much not to like. Maybe that her best friend moved away during all this. I quite liked Six and would have loved to have seen what she would have gotten up to with Hope while all of this was happening, but then again maybe that would have sent the book in a whole different direction.
Favourite character: I would have to say that Holder is my favourite character from Hopeless.
I loved how he never gave up on looking for Hope no matter how many years went by. It would have been so hard on him considering they were so little when it all happened and he didn't even know the real story of what was going on. Once he came to terms with what went on he was able to forgive himself for not telling everyone sooner what happened. He has had to face so much within his short lifespan and he has come out stronger because of it all.
Favourite part/quote:
I loved when Holder said this, I practically melted.
"Sky, I'm not kissing you tonight but believe me when I tell you, I've never wanted to kiss a girl more. So stop thinking I'm not attracted to you because you have no idea just how much I am. You can hold my hand, you can run your fingers through my hair, you can straddle me while I feed you spaghetti, but you are not getting kissed tonight. And probably not tomorrow, either. I need this. I need to know for sure that you're feeling every single thing that I'm feeling the moment my lips touch yours. Because I want your first kiss to be the best first kiss in the history of first kisses."
If you like these books then you will love this book: any other books by Colleen Hoover, Abbi Glines
Rating: 5/5 I loved this book more than the Slammed series